(Online)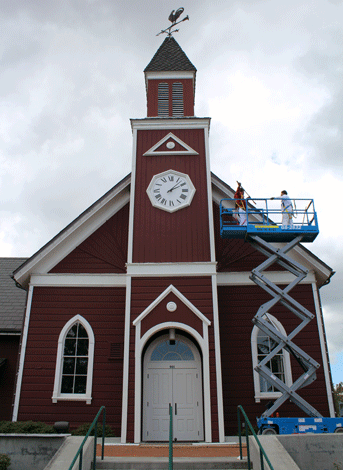 Not an official site of the City of Novato or
the Novato Historical Guild.
A Message from Kevin Morrison
You're interested in Novato history. That's why you're here. Sadly, despite the City's multi-million-dollar investment in the Novato Historical Guild (the nonprofit group which staffs its museums) the Internet remains the best place to discuss Novato history.
(As a member of the Guild, I tried to change things. I led a group who hoped to bring the Guild into the 21st century. But the Guild's leadership undermined our efforts. They went so far as to ban discussion of our ideas. You can see the banned ideas here: goo.gl/ZWojye. They eventually rewrote Guild rules to eliminate opposition entirely.)
Which leads me to here — a website devoted to Novato history. Enjoy!
Warmly,

Docents at the Novato History Museum in December, 2012. Left to right: Michelle Ling, Kevin Morrison,
Anna Morrison.
Kelly Ground is a lifelong Novatan and an actor, vocalist, and university instructor. Her experience with nonprofits (she serves on the National Council of Actors' Equity Association) and educational institutions (California Community College and CSU system) will help forge new relationships with other organizations. Her experience in donor relations for the Belvedere Tiburon Library Foundation will also help the Guild in its fundraising efforts.
Bill Henderson is a retail manager with extensive experience in community relations. Bill grew up in Novato, and he looks forward to building the Guild's relationships with businesses and institutions throughout Marin.
Stephanie Gaines was a VP at CBS prior to joining a startup in Silicon Valley. She looks forward to helping jump-start new ventures with other innovative institutions.
Ramona Martinez is a distinguished librarian at UC Berkeley. She looks forward to helping the Guild develop its online archive.
Kimberly Wesch grew up in Novato. She owned and operated a successful retail business on Grant Avenue, and today is part of the management team at Autodesk in San Rafael, with significant responsibilities in online customer experience management. She looks forward to bringing her savvy customer and communication skills to the Guild.
Michelle Ling's expertise in communications has kept her in high demand among the world's largest companies. She lived abroad for many years but now enjoys her time living in Novato. She looks forward to helping the Guild build and deliver a forward-thinking communications strategy.
Charlie Bormolini handles merchandise sales for major touring performers. He grew up in Novato, and looks forward to helping build and expand the Guild's merchandise sales.
Kevin Morrison is a lifelong Novatan and a filmmaker with extensive experience in fundraising and marketing. His most important claim to fame is as the son of Anna Morrison, who came to Novato in 1923.
Normandie Ramirez is an executive producer of film, video, and media for business, entertainment, think tanks, and government agencies. A keen communicator, she looks forward to helping build the Guild's media presence.
Kristin Sgroi is a marketing consultant, writer, and editor with expertise in multi-channel storytelling on behalf of clients large and small. She looks forward to helping create and manage a vibrant online community.