(Online)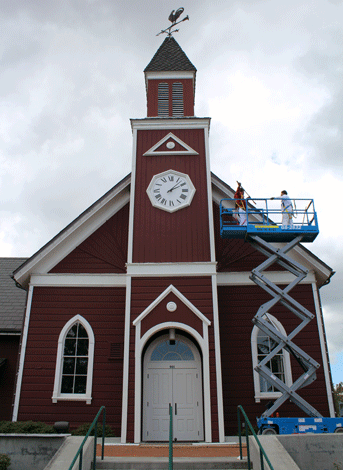 Not an official site of the City of Novato or
the Novato Historical Guild.
The Marin History Museum Kerfuffle
The Marin History Museum announced it was closing its doors. The Marin Independent Journal reported the story in its April 10 edition, including a quote from a person who said, "The historical holy grails of this county are being looked at like Cabbage Patch dolls."
It's not clear what, if any, historical holy grails have been sold to help fund the dissolution of the museum. However, it is clear that the story has been loaded with hyperbole from the beginning.
I wrote to the IJ in August. They published my letter with the headline "'Trying to be more than a repository" and the following text:

The Marin History Museum has problems. Politicians are "concerned" and one Marin IJ column writer called the situation a "fiasco" the cause of which was "incompetence."
I admire the Marin History Museum. Its staff and leadership developed respected programs. It blazed trails in community outreach and it raised funds so successfully that it was able to make ambitious plans for a landmark historical space.
Rather than stick to the modest script followed by most local history groups, it raised $8 million dollars and made investments worthy of a major cultural center.
In a suburban county like Marin, that's amazing.
A similar-sized Novato history group raises about $20,000 annually.
I don't know the Marin History Museum staff or board members, but it seems to me they were inspired by the words of Robert F. Kennedy: "Only those who dare to fail greatly can ever achieve greatly."
Now, critics are pointing fingers and suggesting that things went wrong because those leaders pushed for a community history museum that was not a "sleepy repository."
I like a sleepy repository as much as the next person, but why not honor the history of Marin County with something more ambitious?
Why pillory the people who have tried to do something grand? If history teaches us anything, it's that nothing worthwhile comes easy.
Let's dare greatly, again and again. Let's applaud people who dare greatly on our behalf.
If an IJ column writer wants to visit a sleepy repository, tell him to go back to his office.
— Kevin Morrison, Novato
An IJ Reader Responded
This was a reader response published Thursday 20 August:
'I like an IJ columnist who tells it like it is' I was shocked by Kevin Morrison's Aug. 14 letter to the IJ in which he lauds the current Marin History Museum board for daring to aspire to make the museum more than just a "sleepy repository." His quotation marks drip with contempt as he quotes an IJ writer's use of the words "fiasco" and "incompetence." The Marin History Museum has indeed put on some great programs in recent years. But if raising $8 million, then losing it all in a second ill-thought-out attempt to "honor the history of Marin County" doesn't qualify as "incompetence" and "fiasco," I don't know what does. Mr. Morrison compares the overreach of the Marin History Museum board unfavorably with the Novato History Museum, which seems content to do its real job of protecting Novato's heritage with a more modest income. I assume this modest group has not spirited its valued collection away to be sold nor has it threatened the community with the closure of the museum and the complete dissolution and abandonment of Novato's cherished artifacts. Give me a sleepy repository any day — and I like an IJ columnist who tells it like it is.
— Cynthia Landecker, San Rafael
And Then I Said
A little bit more, which was published on Wednesday 26 August:
'Novato museum gets help from city funding' Sometimes it's desirable to think small and do less, as your columnist Dick Spotswood and reader Cynthia Landecker suggest. But sometimes it's better to think big and do more, and I believe Marin's history is deserving of grand ambition. Today it's getting grand hyperbole. No one at the Marin History Museum has "spirited its valuable collections away to be sold." That statement is misleading, but I understand how your reader came to that conclusion. Likewise, she concluded that a Novato history group's efforts are appropriately modest. (I mentioned they raise about $20,000 per year compared to the millions raised by the Marin History Museum.) However, the Novato group benefits from a partnership with the city. Novato taxpayers provide $100,000 yearly to maintain the museums and office space, and provide virtually all the operational services and support required by their nonprofit partner. Which, sadly, leads to little in return — perhaps because the Novato group's efforts are so modest, 99 percent of Novatans have never visited their museums even once. (That's a fact, by the way, not hyperbole.) Maybe the Novato group's approach would still be applauded by your reader and column writer. That group is not declaring bankruptcy, after all. But perhaps a better approach would be something more effective? I hope your reader and column writer will agree with me on that.
— Kevin Morrison, Novato
The DA Found No Wrongdoing
The IJ duly reported this in their August 24, 2015, edition. Finally, after much hand-wringing by IJ reporters, the newspaper reported on March 1, 2016, "A plan providing new leadership and a fresh start for the troubled Marin History Museum was approved Tuesday by the Board of Supervisors."