(Online)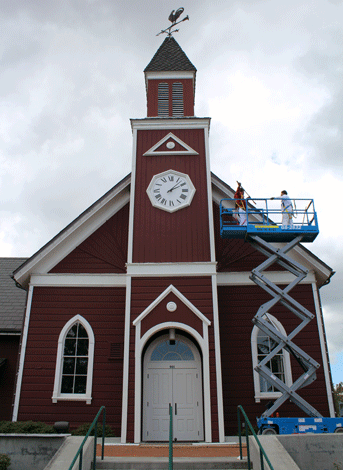 Not an official site of the City of Novato or
the Novato Historical Guild.
Race in Novato
2014 was the 50th anniversary of the Civil Rights Act. But while the country was celebrating, the Supreme Court upheld a Michigan ban on programs that used race in university admissions. Justice Sonia Sotomayor dissented, saying:
"Race matters…. This refusal to accept the stark reality that race matters is regrettable."
In 2015, her words remain all too relevant. Race matters everwhere in America, even in my quiet suburban hometown.
When I was growing up here, race didn't seem to matter. Schoolkids like me learned that life had been epically crappy for nonwhite people. But we also learned that slavery eventually ended. We learned that discrimination ended in 1964 with the Civil Rights Act.
What we didn't learn (or realize) was that Novato was 96% white, and that was why race didn't matter in Novato. It was simply a community where everyone looked like everyone else.
Today, with an historian's perspective on Novato, I see many instances of racism and moments when Novato was in the national headlines for racist incidents. In 1978, for a short time, Novato appeared to be an American hotbed for race-based issues, much like Ferguson in 2014.
But the history of racism in Novato goes back further than the 1970s. In 1859, Novato's first Plat map shows the mountain which defines the town. It was called Olompali — a Miwok Indian name.
That's not racist. But here's the thing — what the Plat map doesn't show is that until the 1960s, Olompali was commonly called Nigger Hill. Nobody is certain how that name was acquired. George Barnwell, editor and publisher of the Novato Advance, new to Novato in 1955, wrote:
We've been told many contradictory facts on 1560-foot Burdell Mountain…[Some] insisted it was properly known as Olompali Mountain…Others also told us the mountain is popularly known as Nigger Hill because of the wild gloomy atmosphere near the top.
Twenty years later, Barnwell published a more detailed story. It was called "Black John— a figure shrouded in mystery from Novato's past." Advance staff writer Gwen Frankel told a fascinating yarn of "a man of color who practiced white man's law" in the 1830s and 40s in Novato.
Helen Van Cleave Park, interviewed for the Advance article (and also the co-author of Early Marin and The Making of Marin), believed that Black John was a slave freed in Novato. Black John became friends with the last Native American headman of Olompali, married his daughter, and was given a parcel of land on what is now Black John Road in Novato.
Then the story (as related by Van Cleave Park) became a soap opera. Apparently, the headman buried a large amount of cash near a creek. He confronted someone near the same creek. The headman ended up "shot in the heart by an arrow," but before dying, he talked to Black John. Black John called the sheriff, they caught the murderer, and then…
The tale ended. It remained an unverified (and probably unverifiable) legend. Black John faded into history. That is, unless another legend mentioned by Van Cleave Park is true: that Black John became involved in mining on Olompali, there was a cave-in, and most of those killed were black workers. Which led to the renaming of Olompali as Nigger Hill. (Much of that story was apparently documented by anthropologist Isabel Kelly in the 1930s, but her work was removed from UC Berkeley archives in the 1960s and remains lost.)
Regardless of origin, for a hundred years the common name for the most striking geographical landmark in Novato was a racial slur. Did that shape Novato and its history?
After Black John, nonwhites didn't play a prominent role in the history of Novato. That invisibility was its own story and is noteworthy today because people of color are now a significant part of Novato. According to the 2010 census, Novato as a whole was 66% white. In downtown Novato...
Whites are a minority downtown, where 52% of residents are Latinx or Black
For a wealthy, 80% white county like Marin, this is quite a story. However, it's a largely unknown story to residents and entirely untold by local media.
The all-white Novato City Council voted in 2019 to crack downtown's nonwhite community, creating a voting map with tendrils reaching out to Novato's whitest neighborhoods. There was little notice, although the Marin Independent Journal's political columnist called it gerrymandering and said "Novato's citizenry should be outraged." But he focused more on the fact that the council cracked downtown in part to create safe districts for each incumbent.
In the 1950 census, Novato's "white people" were broken into "native white" and "foreign-born white." To Novatans at the time, the idea made perfect sense. In 1950, Novato was almost entirely white  — out of 3,496 residents, only nine were black and twenty-three were classified as "other races." People identified as Italian-, Portuguese-, Irish-, and Polish-American long before it was a cultural norm to hyphenate one's ancestry. For most Novatans who remember the mid-20th century, it's easy to recall that the biggest public event (except for Western Weekend) was the Portuguese Parade.
Throughout the 1950s, friendly friction among Novato's ethnic white communities was hardly headline news. Novato was essentially untouched by racial tensions. Probably, as time went by, the name Nigger Hill was used by fewer people. The name Mt. Burdell appeared in print for the first time in 1955.
In the 1960s, when racial tensions manifested themselves in national headlines, Novatans were part of the story — on the good side.
As the Civil Rights Movement gained momentum, Novato was creditably included in the story.
In Fall, 1962, James Meredith became the first black man to register at the University of Mississippi. A small army of federal marshals, US Border Patrol, and Bureau of Prisons officers went to Mississippi to ensure his safety. Two Novato residents, US Marshals Stanley Folger and Alexander C. Koenig, were part of a group who managed a violent, rioting crowd of thousands of segregationists.
Recalling the riot, Koenig said, "It was hard to believe we were here in the United States." A journalist and a spectator were killed, and Koenig was badly injured by a thrown brick.
In a front page article in the Novato Advance, Koenig's eyewitness account, reported by Ed Dolan, offered a harrowing story. As day turned to night, Marshals Koenig and Folger learned the Mississippi Highway Patrol and State Police, which were controlling the crowd, had been dismissed. The unfettered crowd began to fire into the marshals' positions. Agitated men pulled up in cars, tied down the accelerators, and let the cars careen unmanned towards the marshals' positions, hoping to inflict damage.
"None of them reached us," Koenig said.
Koenig's story ended with a gut-wrenching ride in an Army ambulance through Mississippi streets lined by men throwing bricks and waving shotguns.
This was not the last time a Novatan was involved in the historic struggle to end segregation.
Karen Duncan graduated from Novato High School in 1963. In 1964 she volunteered for Freedom Summer, the massive effort to register voters, set up community resources, and teach in Mississippi. When she wrote to her parents in September after ten weeks in Mississippi, the headline in the Novato Advance was, "Details Of Freedom School Fire Told By Karen Duncan In Letter."
Duncan had been teaching since June at a Freedom School at St. John's Baptist Church in Canton, Mississippi. When the church was burnt down in an arson fire on September 23, 1964, the FBI and Canton police brought Duncan in for questioning. They didn't ask about local culprits. Instead, they accused her and fellow Freedom School workers of setting the fire.
A few weeks later, Duncan wrote a detailed update. Her timeline contained dozens of entries about local Canton police harassing workers and residents on trumped-up charges, as well as bombings, burnings, and murders throughout the community — all within a six-week period of September and October. It read like a Hollywood script. In her own words:
About half-way through the questioning, the sheriff stared at me and asked, "Don't you think we know that church and our niggers better than you do?" I stared just as hard back at him and said, "Have you ever been in that church? Have you ever really known those people as friends? I taught there for 2 1/2 months and I met those children every day. I went to church there and knew those wonderful people as people. I visited their homes and I lived in one of them. No, I think in 2 1/2 short months I knew and loved those people more than you have in the last 20 years and more than you ever will."
While Duncan's work was ongoing, two Novato attorneys, Joseph Forrest and Robert Carrow, went to Mississippi as part of a legal effort to challenge unfair voter registration practices. Carrow was then mayor of Novato, and their story was published on the front page of the February 16, 1965 edition of the Advance.
After nine days in Mississippi, Carrow and Forrest agreed that "the courage of the Negroes in two small southern cities" was their chief memory. Many blacks went on record sharing details of intimidation, threats, and absurd requirements (potential voters were required to have their names published twice in local newspapers), knowing they might be subject to reprisals simply for relating the facts. (Mayor Carrow would later defend Luis Talamantez of the San Quentin Six, eventually winning his acquittal.)
Meanwhile, Novato was becoming less white. Issues of race were becoming more relevant.
In 1967, one history teacher at Hill Junior High School went beyond traditional textbooks and methods that relied on chronological histories. John Burgoa said, "Students in this class will be charged with the responsibility to think." He built his curriculum on source material, and classroom assignments included challenging essays like, "Define 'white nigger.'"
Some parents protested. In response, Burgoa's students circulated a supportive petition that garnered a hundred signatures. When the Novato School District was unwilling to embrace his innovations, Burgoa resigned in 1969 and went to a new position at Balboa High School in San Francisco.
Galvanized by the assassination of Dr. Martin Luther King, Jr., a group calling itself Novatans for Racial Equality formed in July, 1968. "New Group Is Headed By Veteran Of Selma March" was the subhead.
Chuck Smith was a graduate of the San Francisco Theological Seminary and took part in the Selma March. Liz Smith and he were white Novatans who, in Liz's words were, "distressed by people of good will who say we can't take any action. That's a way of finking out. It's a vote for the enemy if you don't try to influence others. We've got to make bigots social outcasts." (Novatans for Racial Equity would later play a pivotal role in the formation of the Novato Human Needs Center.)
Mississippi Freedom School teacher Karen Duncan returned to the pages of the Novato Advance in December, 1968. She was continuing to work on issues related to race, and the opening of her op-ed summed up one of her key ideas:
"In a town like Novato most people do not participate in racism so they don't think racism exists. But it exists because they support institutions that perpetuate racism."
By 1970, the West Novato PTA was meeting over issues like "over-protection of the white, middle-class child."
A question put before the PTA by a group of teachers was, "Is white, middle-class suburban Novato a 'safe' place to rear children — or is it just 'sterile'?" Discussing Spanish-speaking kids, teacher Carlin Nelson said, "Speaking Spanish at home, they are overwhelmed when they have to learn math, social studies, everything in English… so they drop out." Ms. Nelson noted that the Economic Opportunity Council on Grant Avenue was looking for volunteers to teach English to "Chicanos."
Also in 1970, a Novato Little League manager was expelled from the league because he called the mother of one of his players a nigger. In his own defense, he said his actual statement were, "There are two kinds of black people, good ones and niggers," and that the boy's mother was a nigger.
By 1974, it seemed clear that if race had not been an issue in Novato historically, that was no longer true. On July 31, 1974, the front page of the Advance featured a photo of three black men— the Saine brothers, who had recently moved to Novato from Tennessee. The headline read, "Police vs. the Saines."
To continue reading, click here.
Editorial cartoon by Paul Miller in the November 1, 1978 Novato Advance. The caption reads, "This is the thanks we get for putting Novato on the map."