(Online)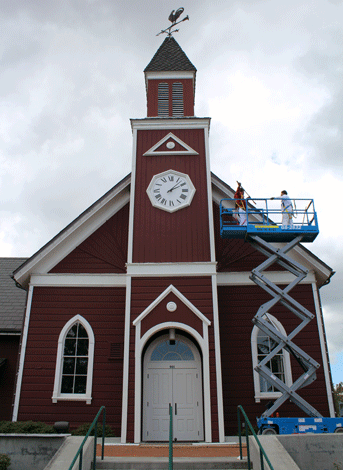 Not an official site of the City of Novato or
the Novato Historical Guild.
Race in Novato
(Continued)
Advance editor and publisher George Barnwell wrote the article himself, along with a sidebar opinion piece. In the main article, Barnwell itemized Novato police reports that sounded like they were from Mississippi in 1964 or Ferguson in 2014.
The Novato Advance reported that Novato police had stopped and questioned two of the Saines because they thought they might be the kidnappers of Patty Hearst.
That incident began a series of nine interactions with Novato police over seven months. They were stopped in Ignacio as burglary suspects, even though the burglary suspects were described as white. A few weeks later, in front of the Novato Pool Hall, they were stopped by four Novato police cars, detained at gunpoint, and 18-year-old Curtis Saine was handcuffed and placed in a police car. Once again they were told they were burglary suspects.
A white man traveling with the Saines was briefly questioned and released, despite the fact that police found he possessed a small amount of pot.
No charges were filed against the Saines (or the pot-holding white guy). But a few weeks later they were stopped for driving with a malfunctioning left taillight. Their car was searched, including all their grocery bags, which were full of groceries.
After several more incidents, including a bizarre detention in which the Saines were questioned by Novato police as kidnapping and extortion suspects, the Saines shared their story with City Manager Phillip Brown and George Barnwell at the Novato Advance, as well as the Marin County Human Rights Commission.
During a police search at the Saine home, Curtis Saine was found in possession of a vial of amphetamines. He was charged with felony drug possession. Saine told reporter Barnwell he took the pills during basketball season to help control his weight.
In a sad twist, in the week following the the story's publication, Curtis Saine died of a heart attack while visiting his father in Tennessee. It was barely a month after the cover story about their odyssey with Novato police, and less than a year after moving to Novato. The Advance reported that the Saine family would leave Novato. Charles Saine said they were "giving up and going back to Tennessee."
Months later, Ernest Gray, then the county human rights commission chairman and later mayor of Novato, offered a succinct summary of the commission's findings.
"Because the Saines were stopped so frequently and because the police appeared to handle whites differently from blacks in the same situations the commission felt that there was some kind of problem in Novato."
However, in light of the Saine family's departure from Novato, as well as the Novato police department's assertions that there was no impropriety, the case was closed by the commission.
A few years later, while Gray was mayor of Novato, the town experienced its most visible and highly charged revelations of race-based harassment.
Stories about Novato's racial problems made headlines across the country in 1978. They were covered on popular shows like "Good Morning America." Time and Ebony magazine reporters worked up stories about Novato and its racist crimes.
For several black Novatans, '78 was a year of harassment and intimidation that turned into a show of solidarity at a Novato city council meeting on October 17.
Jim Matthews of the Marin County Black Leadership Forum told the council that the situation was "indescribable and unbelievable." Members of the Black Parents Advisory Committee, as well as the Negro Business and Professional Women, spoke about the need for action.
The list of incidents was extraordinary.
Black Novatans were being harassed by threatening phone calls, garbage and excrement on their property, dead animals hung on their trees, and burning crosses on their lawns. Bus benches were spray-painted with the letters "KKK." Two men in a pickup truck repeatedly rammed a black woman's car at the intersection of Simmons Lane and Novato Boulevard. A bonfire was spotted on Atherton with "several people in white sheets" attending. A firebomb was thrown through the window of a Chinese American man in San Marin.
A reward was posted by the city council. Novatans for Racial Equality was reactivated, and the NAACP reconstituted its Marin chapter. Multiple articles, editorials, and letters to the editor were published in the Novato Advance.
Within a week, arrests were made for fire-bombing as well as cross-burning. David Martinez, 18 years old, was charged with throwing a Molotov cocktail through the window of Walter Chan's home in San Marin. David Butler, also 18, was charged with setting fire to Ethel Cunningham's front lawn. A number of other juveniles were arrested and/or questioned in both cases.
Police said the cases were unrelated. They continued to investigate.
Then, a few weeks later, two enormous stories erupted from the Bay Area: on November 18, former San Franciscan Jim Jones led more than 900 people into a ritual suicide in Guyana. On November 27, San Francisco Mayor George Moscone and Supervisor Harvey Milk were assassinated.
Stories about Novato faded from the national headlines. No additional arrests were made.
Scattered stories of racist incidents were reported throughout 1979. As Ebony magazine published a story in October featuring some of Novato's racist incidents, a representative of the federal Department of Justice, Julian Klugman, seemed to sum up the feelings of many. He said the racial incidents were "not just a problem in Novato," and added, "I think it's a relatively small group of people… The kind of people who do these things are not limited in their prejudice."
Klugman, speaking on behalf of the federal government, was essentially saying that racists were nasty people in general, and they were everywhere.
In March of 1990, a Novato High School freshman named Melissa Burstein wrote a guest editorial about four former Novato High students and a current senior who shared their experiences with racism in Novato. She quoted one of the young men:
"There is no way to express the pain, the guilt, the agony, the anguish that a minority would feel in Marin County," said Larry Williams.
He and Terry Williams remembered trying to collect money for the March of Dimes, going door-to-door in Novato. "We had gone five houses when a police car came up to us and stopped us. They accused us of collecting the money for our own pockets, instead of charity. It turned out that four out of five houses had called them."
Gilbert Smith recalled getting pulled over while driving his car. "Not one, not two, but three cop cars pulled me over for the simple violation of not stopping the car when someone, 50 feet away, took one foot off the curb…This lady cop comes over to the side of the car and unsnapped her gun holster. She asked me if the car was mine. Did I steal it, boy? Is there a warrant out for my arrest, boy?"
"When will we learn?" wrote high schooler Burstein at the conclusion of her essay.
In February, 1994, there was an incident at Novato Fair Shopping Center between a 17-year-old black man, Marlon Griffith, and Stephen M. Fie, a 35-year-old white man. Griffith was an Eagle Scout, star athlete at San Marin, and courtesy clerk at Lucky's, with no history of arrests. According to witness accounts, Fie pursued Griffith through the parking lot and threw a punch to start a fight.
The incident became a problem for Novato police when its officers were accused of handling the situation unfairly. Griffith was handcuffed and put in the back of a patrol car while Fie was released.
To the credit of Novato police, when Griffith saw Fie walking away and shouted (from the back of the patrol car) about this unfairness, police decided to detain Fie.
Meanwhile, Griffith had sustained a concussion from being tackled to the ground by Officer Robert Moore. When Griffith's mother requested an investigation into the incident, the investigators (who were all policemen) found the police had acted appropriately.
Griffith's mother, Sharon, was a well-known member of the Novato community. She was a volunteer at San Marin High School in the Career Room Information Service and was also "Leah" in the Blue Suede Band, a popular blues and cover band. After the police investigation cleared its officers of wrongdoing, Sharon filed a grievance on behalf of her son and demanded that the Novato Police Advisory Review Board, a civilian entity, look into the matter.
When the Board exonerated the police, agreeing with their internal investigation, Sharon Griffith was tearful. "How can I fight you?" she asked. "I can't put a gun to your heads. I fight you by the law, by the attorney… Where do I go from here?"
Marlon Griffith, who had been stoic throughout, later said, "I was more pissed off with how they treated my mom."
​
In 1995, a racially motivated stabbing outside the downtown Novato Lucky supermarket became a highlight of a national conversation about racial violence. Filmmaker Patrice O'Neill made a film about the incident which was broadcast nationally on PBS. Locally, city officials formed a new "multi-cultural oversight committee" and the Marin County Human Rights Commission chairman declared, "this would send a message to the community that we're not going to tolerate hate crimes in Novato."
​
Anti-immigrant sentiment spilled over from Novato into a regional debate in 2001. "The Buzz," the Novato High newspaper, ran an op-ed about immigration. The piece was viewed as anti-immigrant, but conservative talk show host Michael Savage sided with its 17-year-old author. In 2002, the same author, then an 18-year-old senior at Novato High, wrote an op-ed published in the Novato Advance entitled "Reverse Racism." He wrote, among other things, that OJ Simpson would have been convicted if he were white. He included tropes of white supremacist ideology in clear terms: "Discrimination will never end as long as there is a grudge against white people," and "The times of widespread racism are over, but I think the resentment lives on for some."
​
In 2011, the Marin Independent Journal published a piece entitled, "City of Rage: Why is Novato So Angry?" The IJ authors wrote:
​
"To some observers, the nadir of Novato's public conversation came last August, when anti-illegal immigration activist Jerome Ghigliotti told members of the City Council that he wished one of their family members would be raped or murdered by an illegal immigrant so that the council would recognize the seriousness of his concerns."
​
For their article, the IJ staff conducted interviews with many former and current (at the time) officials, including Gail Wilhelm, Susan Stompe, Michael Frank, Madeline Kellner, and Derek Knell. Those familiar officials, along with prominent residents Toni Shroyer and Patsy White, commented on the often contentious discourse about affordable housing, illegal immigration, and more. Summing up, the piece concluded:
​
"In these tumultuous times, residents look to their elected leaders to take a stand on the issues important to them. Yet many residents feel — rightly or wrongly — that their leaders have turned a blind eye to matters of critical importance."
​
This remains true.
Unfortunately, in the past decade, it's hard to find evidence that the City of Novato or its leadership have focused on issues of equity or inclusion. Rather than serving the increasingly diverse population of Novato, the 2018 city budget offered zero funding for programs for nonwhite communities — except for programs under the control of the Novato Police Department. For instance, NPD became the sole funder of a group of residents meeting under the name "Not In Our Town." The NIOT group hosted monthly meetings, as well as occasional film screenings and public discussions. With guidance from a national organization headquartered in Berkeley, the NIOT group focused on becoming a "Gold Star City" — a certification that Novato was committed to safety, respect, and diversity.
But in May, 2018, when Novato city commissioner Paula Neese posted racist sentiments on social media, both NIOT and the City of Novato were silent. Neese was forced out of office behind the scenes, with no public comment from city officials.
2018 was a bleak year in Novato. Even as Black Lives Matter became a bigger part of the national dialog, Novato's multicultural commission met less frequently. Even as strident directives from the White House resulted in ICE door-knocks and detentions inside Novato, this was not acknowledged by Novato's elected officials, NPD, or NIOT. Even when a long-time Novato resident was detained by ICE just after dropping off kids at Sinaloa, causing enormous concern in Novato's Latinx community, no comment was forthcoming from Novato officials.
​
When community activists, myself included, presented a resolution to the Novato City Council to stand behind SB 54, the "California Values Act," no action was taken. The Council brought its own resolution supporting "family unity," ultimately passing it 7 months later in March, 2019.
​
Despite this positive step, 2019 became a grim year in Novato, as the City Council, over the objections of community leaders (myself included) passed a voting map which cracked the downtown district into three nonsensical parts. The new map prevented Black, Latinx, and other nonwhite residents of Novato from voting as an effective coalition. It created districts for incumbents to safely run for reelection. The new "downtown" district reached northeast to Novato's only gated community, the almost exclusively white and exceptionally wealthy Stonetree, and south to the "presidents" neighborhood, a vastly white and wealthy neighborhood in the hills bordering the Indian Valley College campus. Even the conservative IJ columnist Dick Spotswood called it "gerrymandering." Although the Council's actions were almost certainly illegal, no steps have been taken to combat the divisive map.
2020 has been a watershed year for protest from Novato's nonwhite communities. But even as dozens of stories surfaced about racism in Novato, with the exception of a website posting and email from the mayor, elected leaders remain silent about Black Lives Matter protests.
************************************************************************
Author's Note
There are hundreds of additional stories to tell. When I started researching and writing about race in Novato, I was startled to find there was were so many stories I didn't know or didn't remember.
I grew up in Novato. My father worked for the Novato Advance, and as a child I paid a great deal of attention to local news. But perhaps because of the broad sweep of the issues of race and racism, unfolding over the decades — or perhaps because of my own bias — I hadn't thought there was a significant story to tell.
I relied heavily on Advance archives for this piece. I am grateful to the Novato Historical Guild for making the City of Novato's copies of the archives available for research.
I am also grateful to the journalists who wrote, photographed, edited, and published the Novato Advance. From its beginnings in 1922, through its heyday under George Barnwell (1955–1977), and during its long run under Scripps ownership (1977–2008), the Advance was invaluable to the city and citizens of Novato.
Like most newspapers, the Advance has struggled in the 21st century. When Marinscope bought the Advance in 2008, it was operating with a skeleton staff. News reporting was hit and miss.
But the thing that decimated the Advance also invigorated reporting of substantive issues online. With the pervasiveness of cellphones equipped with cameras, there was a new role for affinity groups and social media. They became part of unfolding events. People started to report in real time on crime, poverty, and social justice via Twitter and Facebook. Steadily, the era of Citizen Journalists began to play a more important role in American culture.
Now, Citizen Historians are joining Citizen Journalists. Together, they are building a new system of reportage and retrospection.
Which is all good, because history has a way of repeating itself. It seems appalling—and yet somehow inevitable—that the host of a popular TV show would say, in 2014, after Donald Sterling, Cliven Bundy, the Supreme Court, and the shooting of Michael Brown:
"Race is there. It exists. You're tired of hearing about it? Imagine how exhausting it is living it."
The cover story in the Novato Advance on July 31, 1974.