(Online)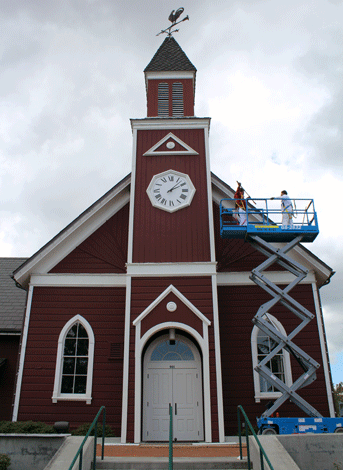 Not an official site of the City of Novato or
the Novato Historical Guild.
Remembering John Giari
The weather vane atop Novato City Hall was made by John Giari, who used to own John's Welding, over on Vallejo Street.
John died last month. He was 96.
I've known John since I was very young, when he often visited the Bormolinis, my next-door neighbors. John was great friends with Henry Bormolini. They met in 1937, when John's family moved to Novato.
Vince Bormolini remembers John coming over on Sundays to watch football. The Oakland Raiders were their main team. "My mom would bring out a bowl of unshelled nuts. They would sit and watch TV and crack nuts without talking much."
Even though I was a child, I remember John as a quiet man; it was unusual, because it seemed to me that adults talked all the time.
Jeanette Stoller (nee Bormolini) remembered, "John drove both me and Nancy to the church for our weddings in his Lincoln Continental."
Yes. I can picture John in his classic suicide-door Continental, quietly driving to Our Lady of Loretto, back when there were many fewer stop signs on Grant Avenue.
John and his wife Pat — who didn't go by her given name, Elizabeth — had seven kids, the last in 1962. That was a lot even then, and there were few people in Novato who didn't know a Giari or two. Most of the kids moved away from Novato, although there was always the home on Marion Avenue.
John grew up in a time when things were different. The first mention of him in the Novato Advance was on the front page of the January 14, 1949, edition: "John Giari, son of Mr. And Mrs. F. Giari, had his appendix removed at the San Rafael General Hospital early Sunday morning. Drs. Weseman and Boice performed the emergency operation."
Throughout the 1950s, 60s, 70s, and 80s, John and Pat's names were in the newspaper again and again, for the births and, later, marriages of their children. They were pictured dancing at their 50th wedding anniversary in 1993.
John was also mentioned in 1960 as the sponsor of NASCAR racer (and Novatan) Tony Valim. Valim raced a 1934 Chevy at the old Hughes Stadium in Sacramento. John was a car guy, something he shared with his Marion neighbor John Lerch.
In 1984, John was pictured in the Advance standing next to the memorial he helped build at the Marin Municipal Water District.
John's brother Joe still lives on Marion. Joe is 92 and quite lively, but it's a blow to lose an older brother, especially one who lived next door for 70 years. I don't know how old people reconcile themselves to the fact that 99% of their friends are dead. I guess they get used to it.
In any case, there are few friendships as enduring as John's and Henry's. Both worked in the building trades —John as a welder and Henry as a contractor. Both married local Irish-American girls — Mary Alice (McKenna) Bormolini and Elizabeth (O'Neil) Giari. Both raised large families in Novato.
Mary Alice died in 1994, and Henry in 1998. Pat Giari died in 2004, in the same house where John passed on last month.
The passing of any Novato old-timer makes me think about how I grew up. Novato was a small town, but it felt special. I guess most people feel that way about their hometown.
Today it's a little less special without John. But whenever I drive by City Hall, I'll think about him. That kind of remembering is pretty special for anybody.
John Giari, Nancy Bormolini, Henry Bormolini.