(Online)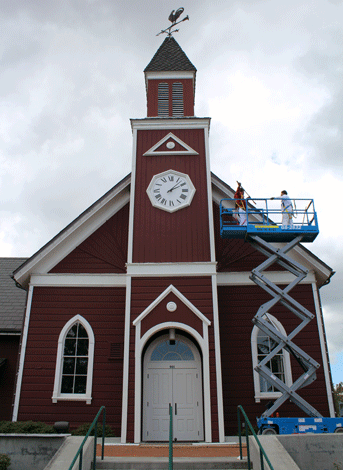 Not an official site of the City of Novato or
the Novato Historical Guild.
Thanksgiving in Novato
In 1931, while the nation was sinking further into the Great Depression, Novato was insulated from the major problems of poverty. This short note in the Novato Advance could have been written many times before and repeated many times after:
"Thanksgiving day was observed in Novato in a quiet way. Groups of friends met together and enjoyed turkey dinners, and all felt thankful that they lived in a community at peace with all the world and liberally supplied with material things that go to make life happy and comfortable."
In Novato, Thanksgiving was uncontroversial — almost. In 1939, when President Franklin Roosevelt used his executive powers to change the date of the holiday, Novatans joined the nationwide argument between "traditional" Thanksgiving adherents and "Franksgiving" supporters.
Novato Advance editor William Hanen offered a witty observation: "Turkeys will taste just as good under the new deal." But that was in the first days of the battle. By the time Hanen prepared the following week's edition, his tune had changed:
"Each year this newspaper prints a Thanksgiving Day editorial, and always it has been a pleasant, peaceful, restful task...But now Mr. Roosevelt's decision has made a sizzling issue of Thanksgiving Day itself."
Hanen was right. What was a nonpartisan topic had become an issue of "Republican Thanksgiving" versus "Roosevelt's Thanksgiving." Apparently, from the time of President Lincoln, Thanksgiving had been celebrated on the final Thursday of November. In August, 1939 when Roosevelt announced his executive order, Americans had already made Thanksgiving vacation plans. Football schedules were set. Calendars were published. Never mind that Roosevelt was the most popular president ever — what did he think he was doing?
Setting aside (for now) the topic of how Native American peoples might understandably view Thanksgiving with askance, the holiday in Novato was for a very long time a quiet dinner after a day's work on the farm. Novato was an agricultural community, and the food on its table was likely from a family's own operations. One topic at dinner might be as simple as, "Did we feed this turkey properly?"
Later, Thanksgiving became a day of broader considerations. In 1970, a young Novatan named Carolyn Clark wrote to the Advance to ask readers to consider "what a demonstration of the true spirit of Thanksgiving it would be if every household vowed to do its part in helping to preserve our environment."
Thanksgiving had become a day of intense celebration, including lots of shopping and a great deal of drinking. In 1978, Novato Police Briefs noted, "Except for seven arrests for drunk driving during the past week, it was a relatively quiet Thanksgiving in Novato."
American holidays, like America itself, continue to change. Whatever your style of Thanksgiving, whether you eat turkey or enjoy Tofurkey — and whether you celebrate on Roosevelt's Thanksgiving or not — thanks for visiting History of Novato (online) and sharing yours with us.
From the November 28, 1931 edition of the Novato Advance.
From the August 25, 1939 edition of the Amarillo Globe-Times.
From the November 18, 1970 edition of the Novato Advance.
From the October 1, 1927 edition of the Novato Advance.
From the November 24, 1970 edition of the Novato Advance.
From the November 24, 1978 edition of the Novato Advance.
Here's a special Thanksgiving treat from The Prelinger Archives.
This 1951 film from Young America Films relates the experiences of a middle-class American family when they are stimulated to review the things for which they are thankful.
Bill Johnson, a garage mechanic, comes home from work on the day before Thanksgiving to find his children completely disheartened by their mother's announcement that the family cannot afford a turkey for the holiday. Shocked at his son Dick's statement that there won't be much to be thankful for, Bill gently reminds him and the other children that while turkey on Thanksgiving is a great American tradition, its presence sometimes obscures the real meaning of Thanksgiving.
When Dick concedes that modern Americans are a lot better off than the Pilgrims, the others suggest that they all make a list of the things for which they are thankful. Their father cautions them to give serious thought to their list, which should include only the things they feel deeply. He then watches them mulling over their thoughts as they play during the evening.
At the Thanksgiving dinner table, each member of the family offers part of the thanks. Tommy is thankful for plenty of food and free library books to read. Susan mentions clothing, Sunday school, and her family. Dick gives thanks for a chance to get an education and a chance to play. Bill thinks as he looks at Baby Janet that she must be thankful in her own way for fun in the bathtub, playtime, and security. Mrs. Johnson is thankful that her children can grow up healthy and strong, that she can guide them, that her family can have many of the modern conveniences, that she can have freedom of speech, and that Mr. Johnson's job brings peace of mind.
Bill Johnson then finishes the list with the things for which he is thankful: a home with privacy, freedom from fear of political reprisal, the right to pick a vocation in which he is happy, freedom of opinion as represented by his newspaper, the right to vote, and the belief that family unity can become world-wide unity.
Produced and directed by Russell Mosser and Art Wolf. Written by Margaret Carlile ("Trudy") Travis. Photographed by Norm Stuewe. Opening and closing music written by Art Wolf. With Dan Palmquist (Bill Johnson); Mrs. Glenn Lessenden (Mrs. Johnson); Janet Mosser (Baby Janet); Trudy Travis (Neighbor who borrows a cup of flour); Art Wolf (Bill Johnson's boss); Russell Mosser (Newspaper editor and voter preceding Bill Johnson).
Filmed in Lawrence, Kansas.