(Online)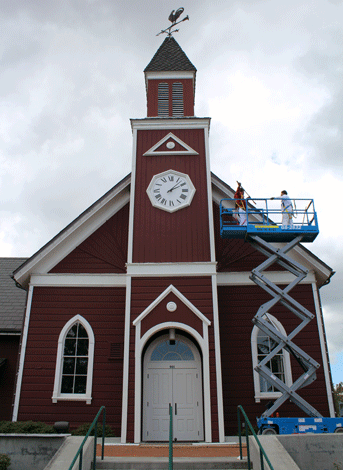 Not an official site of the City of Novato or
the Novato Historical Guild.
Videos
Old and new, long and short, these are sure to please Novato history enthusiasts. If you have an idea for a video or topic you'd like to see, go here.
From producers unknown, this 16mm black and white film appears to have been shot and edited around 1955. With many scenes of downtown and a cameo from "Novato's oldest resident," Bruno Schultz, it's sure to please any Novato history enthusiast. Note the video starts with twenty seconds of black video and orchestral music. (From the archives of the City of Novato.)
Novato Historical Guild vice president Susan Magnone and historian Carolyn Neer spent the summer of 2013 exploring and reorganizing the archives at the downtown Novato History Museum. What they found was extraordinary, and they offer the inside scoop in this seven-minute video.
Novato
City Council
Makes History
In December, 2009, Novato made history with Marin County's first all-woman city council. Denise Athas and Pat Eklund took the oath of office to join Jeanne MacLeamy, Madeline Kellner, and Carole Dillon-Knutson. (IJ photo by Jeff Vendsel.) TRT 2:28.
Novato
"Time Capsule"
Part One

"
In 1896, a small copper box was placed in the foundation of the Presbyterian church in Novato, California. The box was opened Monday, December 15, 2008, under controlled conditions by renowned paper conservator Karen Zukor in Oakland, California. This is a three-part series, and Part One is 8:30.
Novato
"Time Capsule"
Part Two
The story of Novato's "time capsule" made international news in 2008. (A story was aired on NPR's Morning Edition on Tuesday, December 16.) In Part Two of this three-part video, conservator Karen Zukor uses special teflon tools to extract the contents of the box. TRT: 9:48.
In this final installment of a three-part series, the painstakingly detailed work of paper conservation reveals more about the contents of the cornerstone box placed in the foundation of the Presbyterian chruch in Novato in 1896. Total run time: 7:27.
This hour-long panel discussion was presented on local cable TV by Soroptimist International of Novato in January, 1997. Hosted by Allison White, the panel included Bill Eckoff, Paul Scheller, Wayne Womack, Myra Howe, Fern Johnson, and Herb Rowland. At 29:00, Myra Howe begins a slide show of photographs from the Novato archives.
In 1989, Novato became a sister city to Shepparton, Australia. In this 25-minute video, Novato Mayor Hugh Turner and City Manager Phil Brown introduced Novato to their new Shepparton family. The video was produced by Phil Vince and edited by Dean Kendrick for Videotronix Productions.